Mosquito Protection For Your Austin, TX Yard
Although you're likely to find a mosquito or two inside your house on the average summer day, the real problem is when they take over your Austin yard. Mosquitoes are certainly an annoyance, and they can make it difficult to spend time outside. However, the bigger problem with mosquitoes is the illnesses they spread.
It's hard to believe, but mosquitoes are the deadliest pests in the world. They are responsible for spreading malaria, West Nile virus, Zika virus, dengue fever, and more. No one likes to be bitten by a mosquito because their bites are so itchy, but knowing you could also contract a dangerous disease in the process makes them even more unwelcome.
If you have a lot of mosquitoes on your property, you don't have to put up with it. Accurate Termite and Pest Control offers mosquito control services that greatly reduce the mosquito populations on your property, benefiting your family in several ways. You can enjoy your yard again instead of staying inside, you won't get covered in itchy bites every time you go outside, and there'll be a great reduction in the risk of getting a mosquito-borne disease.
Our Mosquito Control Offerings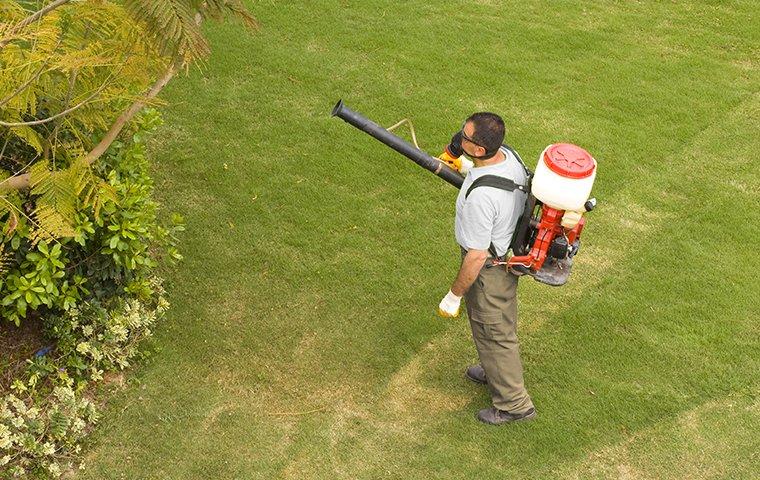 At Accurate Termite and Pest Control, we offer a combination of services to eliminate mosquitoes on your property effectively. Although it's impossible to remove every mosquito from your yard, we can greatly reduce their numbers with our proven strategies.
We offer installation and maintenance of the In2Care Mosquito Trap System. This system includes several mosquito traps strategically set up in shaded areas around your property. When female mosquitoes land in the trap to lay eggs, they pick up the larvicide on their bodies and spread it to other breeding locations nearby. The active ingredient also eliminates the adult mosquito after a few days.
In addition to the In2Care System, we'll also come to your home monthly to provide a fogging treatment. This service treats shrubs, trees, grasses, and other areas where adult mosquitoes rest to provide a quick knockdown. During this service, we'll also dump out any small items that have collected water to prevent mosquitoes from breeding, and we'll check and refill your mosquito traps if needed.
One-time fogging services are also available – a good option for special outdoor events, like barbecues, backyard weddings, or outdoor concerts. We'll treat your space before the event so that mosquitoes can't ruin it!
Your Austin Yard Should Be A Place To Enjoy
Mosquitoes can send you running indoors, but they shouldn't keep you captive in your own house. Get back outside to enjoy your Austin yard with the help of Accurate Termite and Pest Control's mosquito control service. We'll greatly reduce the number of mosquitoes on your property and keep them off all season long. Contact us to schedule a service today.
Learn more about our home pest control and commercial pest control offerings.
Request Your Free Estimate Today
Complete the form below to schedule your no obligation estimate.